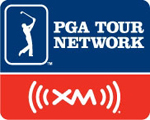 "Teed Off" airs weekdays from 9-11am eastern on the PGA TOUR Network, Sirius 208 and XM 93.  During PGA TOUR tournament weeks, the program re-airs from 2-4pm eastern Monday – Wednesday.  With significant morning drive exposure on both the east and the west coast, the morning block of programming on the PGA TOUR Network is the most-listened-to golf in the world.
Weekly features include:
Tournament reaction on Monday
Discussion about the equipment of the game on "What's In the Bag Wednesday"
The guest-of-the-week award on Friday
If you'd like more information about Sirius/XM Satellite Radio and the demographics, click here.